Flashback: Biden, White House cited inaccurate '9,000 unused permits' figure more than 20 times
President Biden and top White House officials repeatedly stated last year that oil and gas exploration companies were sitting on 9,000 unused drilling permits, a figure the administration admitted was inaccurate Monday.
The Bureau of Land Management, which oversees nearly 250 million acres of federal lands, altered its estimate for the current number of approved but unused applications for permits to drill from about 9,000 down to less than 6,700, the agency confirmed to Fox News Digital. The agency said the figure was updated to "account for a reporting discrepancy resulting from a transition to a new database in mid-2020."
"The record profits oil companies made in 2022 and the thousands of approved but unused drilling permits they are sitting on shows that there is nothing getting in the way of increasing oil production except Big Oil's own decision to funnel their profits into the pockets of shareholders and executives," a Biden administration official added Monday, downplaying the update.
However, the White House had cited the 9,000 permit figure on at least 20 separate occasions last year, according to a review of public statements and remarks. Amid heavy criticism over the administration's climate agenda as consumer prices hit record highs, the president and top officials pointed to the figure as evidence that the oil and gas industry didn't need additional leases and were free to immediately produce energy.
REPUBLICANS UNVEIL EFFORT TO BOOST ENERGY PRODUCTION, FAST-TRACK PERMITTING PROCESS
"For nearly a year, the White House has been trying to shift blame for hindering oil and natural gas development on federal lands," Kathleen Sgamma, the president of the Western Energy Alliance, told Fox News Digital. "They use the claim about 9,000 permits to beat up the industry and deflect for their failure to efficiently process permits. Now it turns out the numbers were off by thousands."
"The reality is this administration has done everything possible to make it more difficult to produce oil and natural gas on federal lands," she continued. "Studies show the United States would be producing 2-3 million more barrels per day, thereby lowering process for consumers, if it weren't for these bad policies."
FOSSIL FUEL PROFITS ARE VITAL FOR GREEN ENERGY PROJECTS DEMS ROUTINELY TOUT
In addition to Biden, Energy Secretary Jennifer Granholm, Interior Secretary Deb Haaland, White House press secretary Karine Jean-Pierre, former press secretary Jen Psaki, spokesperson John Kirby and anonymous administration officials all cited the figure.
"One thing I want to say about the oil companies: They talk about how we have — they have 9,000 permits to drill," Biden remarked in June. "They're not drilling. Why aren't they drilling?"
Gasoline prices, largely determined by oil markets, surged past $5 per gallon for the first time in U.S. history days after Biden's remarks. Utility gas and electricity prices have also surged since the president took office in January 2021.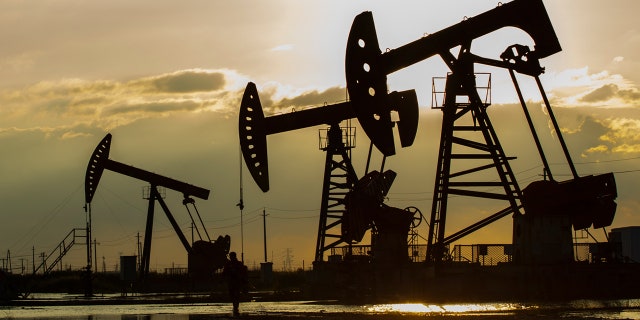 The president also called on Congress to fine companies that have been granted unused permits on federal land "that they are hoarding without producing."
"There are over 9,000 onshore drilling permits that are sitting unused," Granholm said during a speech in March 2022. "We all know that's the same old D.C. BS."
"There are about 9,000 approved drilling permits across the country currently that are not being used, 10.4 million acres of offshore federal waters already under lease," Haaland added in testimony during a Senate hearing in July. "I know there's a lot that goes into considerations with the price of fuel, but I want to assure you that at the Department of Interior, we're doing our jobs and following the law."
CLICK HERE TO GET THE FOX NEWS APP
And the White House issued several fact sheets citing the figure to argue the administration had provided plenty of opportunities to industry to drill for oil and gas.
"Right now, the oil and gas industry is sitting on more than 12 million acres of non-producing Federal land with 9,000 unused but approved permits for drilling," the White House said in an April release.
"The President has issued 9,000 permits for drilling on U.S. federal lands … 9,000 of them are being unused. There are plenty of opportunities for oil and gas companies to drill here in the United States," Kirby said in November. "Again, there are 9,000 unused permits here in the United States on federal land that oil and gas companies can and should take advantage of. Nine thousand."
If you have any problem regarding content please feel free to contact here at: itipspedia@gmail.com