Florida bill would restrict gender pronouns in schools, define biological sex as an 'immutable' trait
The Florida House of Representatives filed a bill that aims to restrict the use of gender pronouns in school.
"This bill promotes parental rights, transparency, and state standards in Florida schools. It requires that lessons for Florida's students are age-appropriate, focused on education, and free from sexualization and indoctrination," Rep. Adam Anderson, District 57, said in a statement. 
Anderson proposed the bill with support from Rep. Randy Fine, District 33. Fine said, "Florida is not going to be in the stupid pick-your-own pronouns fantasy that the woke left wants to waste our time with," WESH reported.  
Filed on Tuesday, House Bill (HB) 1223 would define "sex" as "the binary division of individuals based upon reproductive function."
NYC MAYOR ERIC ADAMS SAYS WHEN AMERICA 'TOOK PRAYERS OUT OF SCHOOLS, GUNS CAME INTO SCHOOLS'
The bill would mandate that "a person's sex is an immutable biological trait" and "it is false to ascribe to a person a pronoun that does not correspond to such person's sex." 
The bill also includes proposed changes to the Parental Rights in Education law introduced last year by Florida Gov. Ron DeSantis, aiming to restrict lessons and discussions of gender identity and sexuality through eighth grade – an increase from third grade. 
KY HOUSE COMMITTEE ADVANCES BILL REQUIRING TEACHING APPLICANTS TO REVEAL PAS MISCONDUCT ALLEGATIONS
Gender in education has increasingly taken focus over the past year following the introduction of DeSantis' bill: Sen. Tim Scott, R-S.C., introduced his own bill in September 2022, then reintroduced it on Feb. 1, 2023, aiming to cut federal funding from schools that conceal gender transition or changed gender pronouns from parents.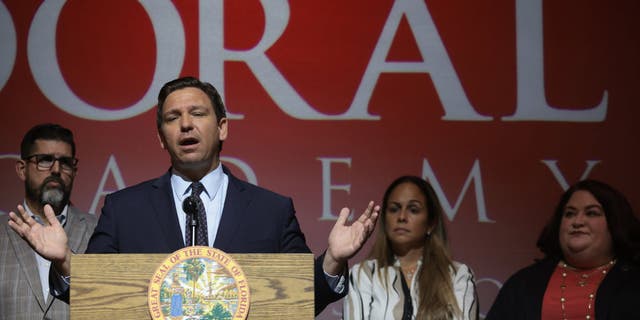 And a new Florida bill filed last week would require companies offering gender transition treatments to likewise cover an employee's detransition. 
RANDI WEINGARTEN BLASTED FOR 'MELTDOWN' OUTSIDE THE SUPREME COURT: 'JUST SHOUT AND BULLY'
Ronna McDaniel, chairwoman of the Republican National Committee, argued in a Fox News op-ed, "Schools should teach young kids about the A-B-Cs, not S-E-X," which for Democrats is "unacceptable." She cited a Daily Wire survey that found "67% of Americans agreed" the DeSantis bill would "protect children from inappropriate topics that should be discussed by parents."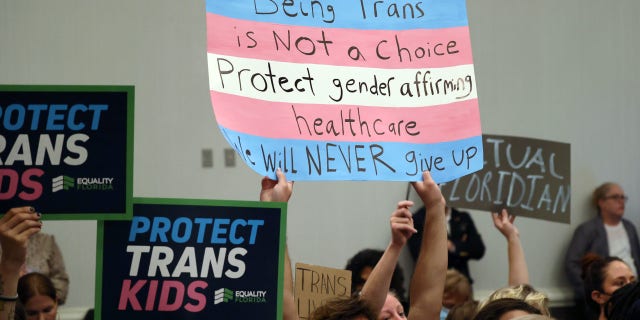 But a non-binary student interviewed by WESH argued that the politicians pushing these policies are not "seeing what I'm seeing on a day-to-day basis." 
"When you're not respected, when your identity is not respected and is erased, I can't even put into words how detrimental this is going to be for students" the student said. 
CLICK HERE TO GET THE FOX NEWS APP
"This is going to cause LGBTQ suicide rates, trans suicide rates, to skyrocket in Florida. That is what this bill is going to do."
Fox News Digital's Joshua Q. Nelson contributed to this report. 
If you have any problem regarding content please feel free to contact here at: itipspedia@gmail.com