On this day in history, March 1, 1872, majestic Yellowstone becomes America's first national park
Yellowstone National Park, an almost mystical 2.2-million acre wonderland of dynamic hydrothermal activity, breathtaking scenery and spectacular wildlife, was established on this day in history, March 1, 1872. 
It was the first national park in the United States and, to most people around the world, the first known on the planet. 
It quickly inspired an international conservation movement in the wake of the Industrial Revolution.
"The headwaters of the Yellowstone River … is hereby reserved and withdrawn from settlement, occupancy, or sale … and dedicated and set apart as a public park or pleasuring-ground for the benefit and enjoyment of the people," states the Yellowstone National Park Protection Act, signed into law by President Ulysses S. Grant. 
ON THIS DAY IN HISTORY, FEB. 28, 1983, 'M*A*S*H' FINALE DRAWS RECORD TV AUDIENCE OF OVER 100 MILLION
The park is located mostly in the northwestern corner of Wyoming, the least populated state in the Union, but also crosses into Montana and Idaho. 
Its area of 3,472 square miles makes it bigger than Rhode Island and Delaware combined. 
"Although Yellowstone had been thoroughly tracked by tribes and trappers, in the view of the nation at large it was really 'discovered' by a series of formal expeditions" between 1869 and 1871, reports the National Park Service. 
David E. Folsom, Charles W. Cook and William Peterson explored the park in 1869 and reported on its spectacular physical features for media back east. 
Tower Fall, Yellowstone Grand Canyon and the geysers of Firehole River were among the marvels they described for first time. 
A new expedition in 1870 led by surveyor Henry D. Washburn recorded the size and scope of Yellowstone's greatest landmarks.
"The geysers of Iceland … sink into insignificance in comparison with the hot springs of the Yellowstone." — Explorer Ferdinand V. Hayden
Finally, in 1871, Ferdinand V. Hayden, head of the U.S. Geological and Geographical Survey of the Territories, led a large scientific expedition that reported back on the incredible scope and magical scenery of Yellowstone. 
"The geysers of Iceland … sink into insignificance in comparison with the hot springs of the Yellowstone and Fire-Hole Basins," Hayden reported. 
AMERICA THE BEAUTIFUL: 50 MUST-SEE LANDMARKS THAT TELL OUR NATIONAL STORY
Photographer William Henry Jackson and artists Henry W. Elliot and Thomas Moran joined him on the trip. The expedition's rhapsodic tales and images captured widespread attention from the American public — and from political leaders in Washington D.C.
"The crowning achievement of the returning expeditions was helping to save Yellowstone from private development," writes the National Park Service.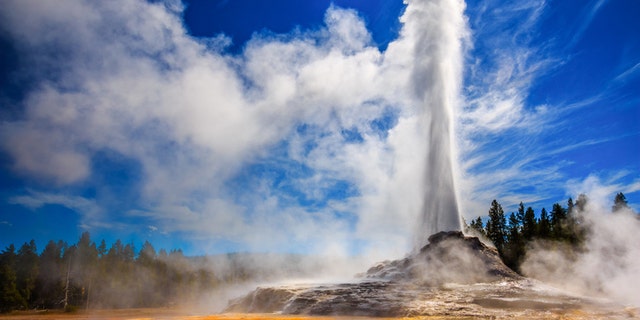 "The wonders of Yellowstone — shown through Jackson's photographs, Moran's paintings and Elliot's sketches — had captured the imagination of Congress. Thanks to their reports, the United States Congress established Yellowstone National Park just six months after the Hayden Expedition."
Yellowstone today includes one of the greatest collections of large mammals on the planet, including grizzly bears, bison, wolves, moose and elk — among scores of other species. 
'YELLOWSTONE' STAR KEVIN COSTNER TALKS FALLING 'SHORT' BY SAYS 'WE KEEP ON TRYING'
It also features, most dramatically, more than half the world's known hydrothermal landmarks: geysers, hot springs, mudpots and steam vents. 
Its most famous geyser, Old Faithful, reliably erupts about 17 times each day.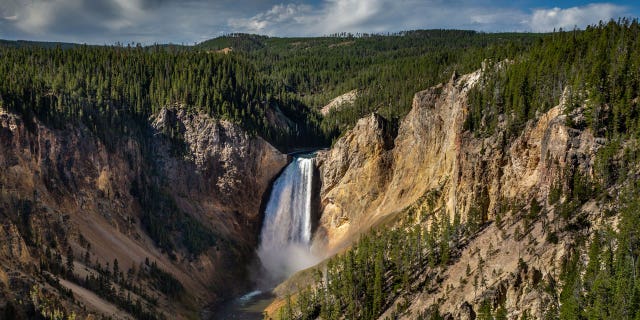 The geysers and hot springs, however, betray the boiling cauldron of volcanic and seismic activity beneath the surface of Yellowstone. One of the world's largest super volcanoes poses the potential to erupt with cataclysmic results for life on Earth, while experiencing about 3,000 mostly minor earthquakes each year. 
CLICK HERE TO SIGN UP FOR OUR LIFESTYLE NEWSLETTER
"Past volcanic eruptions that have taken place at Yellowstone National Park have been global disasters," reports National Geographic. 
"Today, scientists are trying to predict how this ticking time bomb will explode — or fizzle out." 
Yellowstone geologist Dr. Jacob Lowenstern told NatGeo, "There is no current activity that is going on that would indicate anything is happening. If there was something coming, there is nothing to show at this point in time."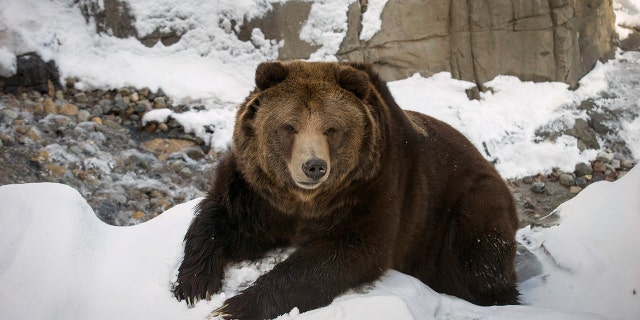 Yellowstone is widely reported as the world's first national park. 
But one global preserve makes a much earlier claim. 
"Past volcanic eruptions that have taken place at Yellowstone National Park have been global disasters." – National Geographic. 
Bogd Khan Uul National Park, a small 260-square mile reservation in a remote part of Mongolia, was established in 1783. It remained unknown to much of the world at the time and remains so even today. 
ON THIS DAY IN HISTORY, AUGUST 25, 1916, NATIONAL PARK SERVICE CREATED UNDER PRESIDENT WILSON
The creation of Yellowstone National Park 151 years ago today from the emerging international power known as the United States generated worldwide headlines and interest in conservation.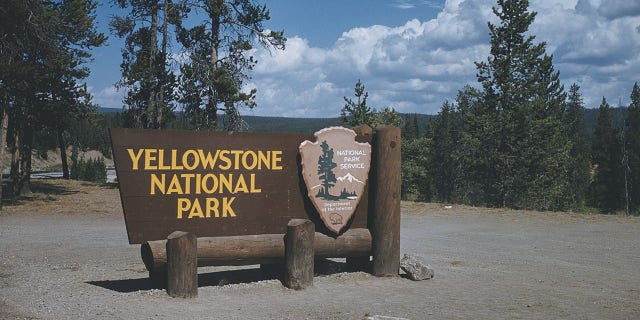 National parks were quickly created in Australia, Canada, New Zealand, and elsewhere around the world. 
By the end of the 19th century, the United States added Sequoia, Yosemite and Mount Rainier to its list of national parks. 
CLICK HERE TO GET THE FOX NEWS APP
The National Park Service today manages 424 "units" in all 50 states, protecting 85 million acres of American wilderness.
If you have any problem regarding content please feel free to contact here at: itipspedia@gmail.com