The 8 Most Important Details to Remember Going Into 'The Marvels'
Keeping up with the Marvel Cinematic Universe can be a chore sometimes. In a franchise replete with interconnecting movies, walking into the theater blind can sometimes leave you walking out dizzy. The Marvels is no exception.
Not only is the movie the sequel to Captain Marvel, but it is also the sequel to five other MCU projects (yes, five). In addition to furthering Carol Danvers' storyline, The Marvels is also addressing storylines of characters like Monica Rambeau, Kamala Khan, and Nick Fury, all of whom had Disney Plus series' that furthered their character's development.
To get the full The Marvels experience, you'll need to be up to speed on Captain Marvel, Avengers: Endgame, WandaVision, Ms. Marvel, Secret Invasion, and Guardians of the Galaxy. Of course, not everyone has the time or desire to re-watch all of these projects in preparation.
To make it easier on you, we've compiled a list of all the pertinent pieces of information you should know before going into The Marvels, lest you want to spend the entire film with your head cocked and your brow furrowed.
Carol Danvers has lived a lot of life that we don't know about
There's a lot we don't know about Carol Danvers' life after 1995. Throughout the latter part of the Infinity Saga and most of the Multiverse Saga we've repeatedly asked ourselves in moments of great peril "Where the hell is Captain Marvel?!" As Carol told the Avengers in Endgame, "There are a lot of other planets in the universe. And unfortunately, they didn't have you guys."
Dar-Benn, the main villain of The Marvels, despises Carol for reasons we don't yet know, but it likely has to do with something that occurred in the years before or after Avengers: Endgame. Something that'll hopefully give us insight into what exactly Carol's been up to.
We know Carol got her powers from the Tesseract (aka the Space Stone) in Captain Marvel. Because of this, she is one of the strongest superheroes in the MCU alongside the Scarlet Witch and G'iah (Secret Invasion). She is also part Kree, part human thanks to a blood transfusion by Yon-Rogg (Jude Law) in Captain Marvel. When she was still a Kree soldier, she went by the name Vers, so don't be surprised if you hear that come up in The Marvels.
Despite her ties to the Kree, Carol has devoted herself to helping the shapeshifting alien race known as the Skrulls, with whom the Kree have been in conflict for decades. Which leads us to our next point.
The Kree/Skrull war has been an ongoing plot point in the MCU
According to trailers for The Marvels, the Skrulls will have a part to play in the film, although to what exact extent, we don't know.
The Kree-Skrull war was the backdrop of Captain Marvel. Characteristically arrogant, the Kree's mission has always been to force planetary races in the galaxy to submit to their rule, and those who don't are exterminated. The Skrulls are the victims of this genocidal war and in Captain Marvel, Carol Danvers and Nick Fury team up to protect them.
Now a displaced race, the Skrulls have been hiding in plain sight on Earth as part of Nick Fury's promise to find them a home planet. That aspect of their storyline was explored in Secret Invasion. The most important thing to know is that Carol Danvers and Nick Fury are equally devoted to protecting the Skrulls, whereas the Kree, are hellbent on exterminating them. Carol's last words to the Skrull Talos in Captain Marvel were "I'll help you find a home."
Nick Fury's has marital ties to the Skrulls and is also the director of S.A.B.E.R.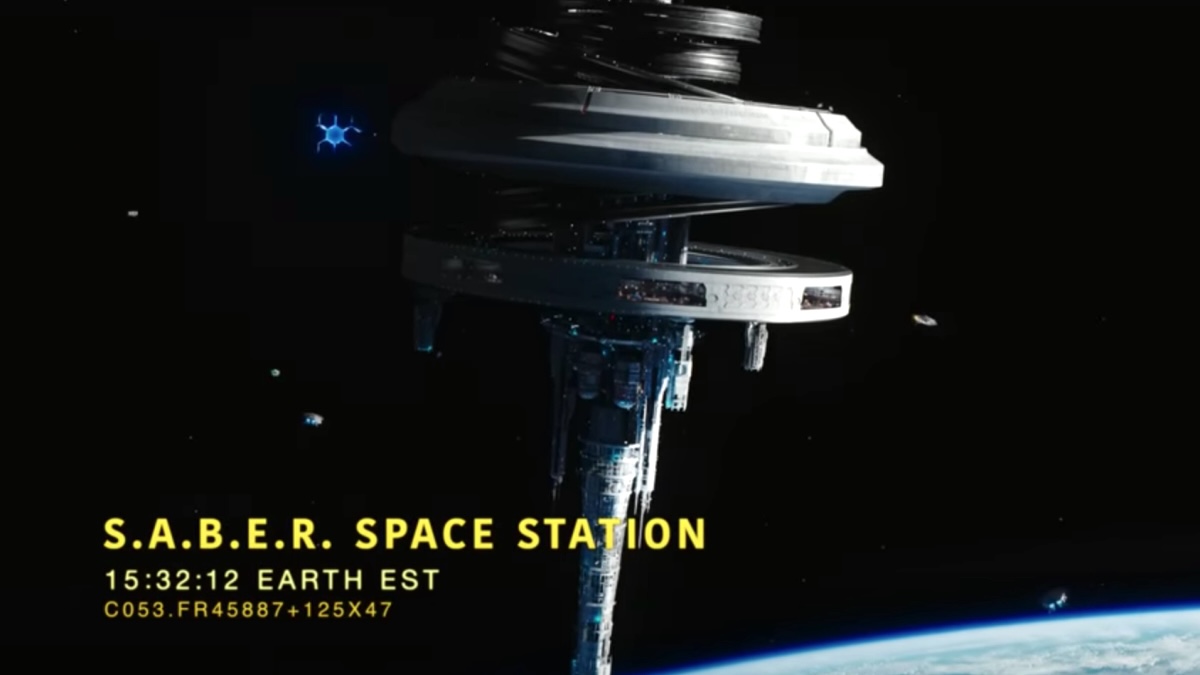 Another bombshell we received from Secret Invasion is that Nick Fury is married to a Skrull. She goes by the name Priscilla in human form, but her actual name is Varra. Their relationship highlights Fury's deep personal connection to the alien race. Although it's highly unlikely Varra will be mentioned or shown in any way in The Marvels, it's still good to know, as it provides context to Fury's status as the director of S.A.B.E.R., a human-Skrull defense system.
We first saw S.A.B.E.R. in the post-credits scene of Spider-Man: Far From Home, although we didn't have a name for it then. In the final moments of Secret Invasion, Fury departs Earth to return to S.A.B.E.R. The Marvels will probably give us our biggest answer yet as to what exactly Fury is up to on the space station. 
Monica Rambeau got her powers after walking through a witch hex in WandaVision 
Monica puts it quite nicely when she says in The Marvels "I walked through a radiation shielding barrier of a witch hex and now I can manipulate and see all wavelengths of the electromagnetic spectrum." The witch hex she's referring to is the one Wanda put on the townspeople of Westview in WandaVision. 
These powers are relatively new for Monica, as she got them only a couple of years ago. Since Carol Danvers hasn't seen Monica since she was a little girl, she has no idea Monica has superpowers when they come face to face in The Marvels. Speaking of which…
Monica and Carol have a strained history
The last time Monica and Carol saw each other was in Captain Marvel, and Monica was just a little girl. Carol was best friends with her mother, Maria Rambeau, and Monica not only idolized Carol but also saw her as family, often calling her "Aunty Carol."
At the end of Captain Marvel, Carol says "I'll be back before you know it" and wishes Maria and Monica goodbye. Over 30 years have passed since then, and Carol never followed through on her word. As such, Monica has built up resentment, especially since Carol wasn't there for her during Maria's illness and death (but neither was Monica since she was dusted during The Blip only to return to find out her mother had died — another plot point from WandaVision).
When Monica and Carol finally come face to face again in The Marvels, it's likely not going to be the happiest reunion.
Kamala Khan is a mutant whose powers are unlocked by her bangle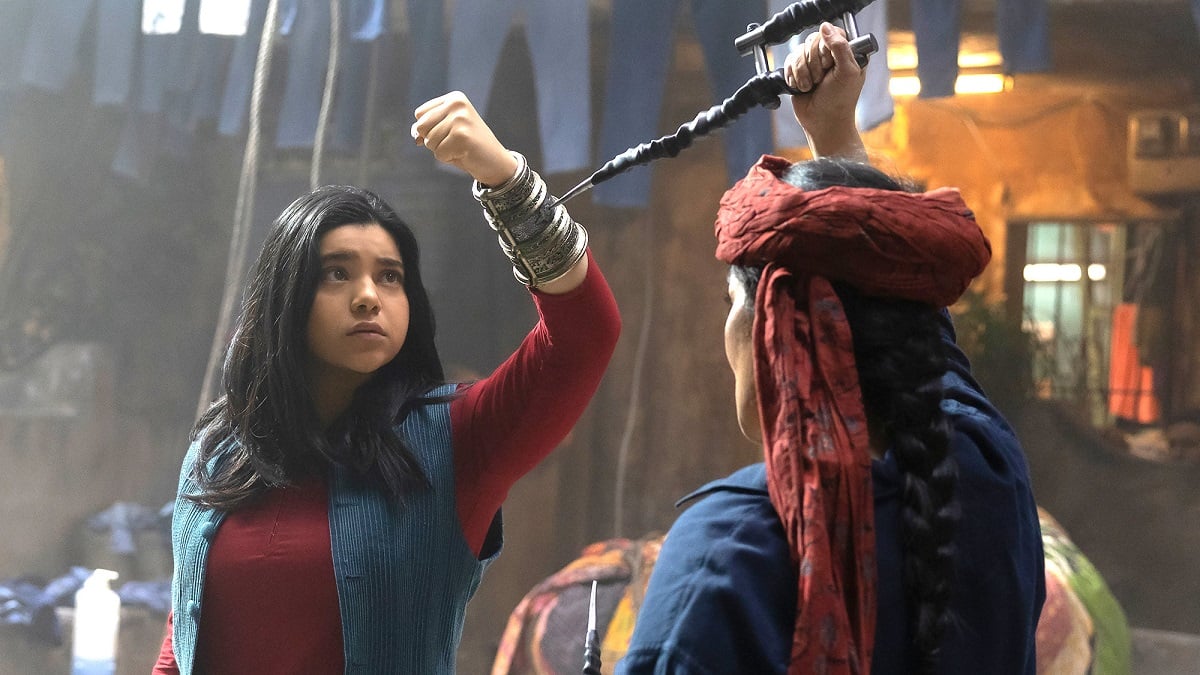 Yes, Kamala Khan is a mutant. The first mutant to appear in an MCU movie in fact, something that will probably be addressed given the sheer amount of X-Men speculation surrounding The Marvels.
Kamala's powers were unlocked in Ms. Marvel when she put on an ancient bangle her grandmother sent her in the mail. When worn, Kamala can manipulate extra-dimensional energy from the Noor Dimension, a dimension in the Multiverse home to the Clandestines, often referred to as Djinn. However, it's not just the bangle that grants her powers. As Bruno said in Ms. Marvel, "So it looks like your power isn't coming from the bangle. It's coming from within you. Like the bangle unlocked the superhuman part of you."
Also, Kamala is a huge Captain Marvel fan. Probably the biggest one there is. If you see her fangirling over Carol in the movie, that's why. 
Carol Danvers has unfinished business with the Supreme Intelligence
"Tell the Supreme Intelligence that I'm coming to end it. The war. The lies. All of it." Those were Carol Danvers' final words to Jude Law's character Yon-Rogg in Captain Marvel. 
The Supreme Intelligence is an AI that appears differently to everyone who encounters it. For Carol, it took the form of Mar-Vell (Annette Bening), the Kree scientist who put Carol on the path to becoming Captain Marvel. Since the events of Captain Marvel — in Guardians of the Galaxy, to be exact — we discover that the Supreme Intelligence has been overtaken as ruler of the Kree Empire. Now the Kree Emperor rules the technologically advanced humanoid race. Nevertheless, trailers for The Marvels seem to indicate that Carol intends to follow through on her word.
Goose is more than just a cute cat — she's an alien 
Before Goose stole Nick Fury's heart (and eye), she belonged to Mar-Vell, but after the Kree scientist's death, Nick Fury took her in. Come The Marvels, Goose is hanging out with Carol in space.
She might look like a cute cat, but Goose is actually an extremely dangerous and intelligent alien known as a Flerken who's capable of more than just scratching you with her claws. She has a pocket dimension inside her body. This is how she was able to swallow the Tesseract in Captain Marvel and spit it back up later. She's basically the best version of a protective lock safe anyone could ask for, although whether she'll be used for that purpose in the movie remains to be seen.
Denial of responsibility! yesspdf.com is an automatic aggregator around the global media. All the content are available free on Internet. We have just arranged it in one platform for educational purpose only. In each content, the hyperlink to the primary source is specified. All trademarks belong to their rightful owners, all materials to their authors. If you are the owner of the content and do not want us to publish your materials on our website, please contact us by email – at loginhelponline@gmail.com The content will be deleted within 24 hours.