House Democrats' own witness blasted Biden's climate bill for permitting 'climate apocalypse'
Democrats' witness at a House Natural Resources Committee hearing Tuesday blasted supporters of the Inflation Reduction Act (IRA) last year for "permitting a climate apocalypse."
John Beard, Jr., the founder and president of the Texas-based Port Arthur Community Action Network, particularly criticized the IRA for several provisions that open up millions of acres of federal land and waters to fossil fuel drilling. He said the $739 billion legislation would effectively green-light offshore drilling for decades to come, putting communities like his "at risk."
Every Democratic member of the committee — excluding four members who entered office this year — voted for the IRA in August.
"We no longer have the luxury of debating whether or not we should open up our oceans to more oil and gas drilling," Beard wrote in an Aug. 1 op-ed for The Hill. "If the Biden administration and our elected officials choose to dismiss the warning signs, ignore their own commitments and cave to the fossil fuel industry's demands, they are all complicit in permitting a climate apocalypse."
REPUBLICANS' SPR BILL LEAVES DEMOCRATS SQUIRMING OVER OIL LEASING: 'IT'S THE PROCESS OF BALANCE'
"We can't keep flying past these warning signs and flashing lights — we must understand that new drilling is a death sentence for the Gulf Coast and for our planet," Beard continued. "If you think I am being alarmist, I invite you to come down to the Gulf Coast and see what the fossil fuel industry has done to our air, water and health — you can come see firsthand why we don't want any new leases."
BIDEN ADMIN QUIETLY ADMITS WHITE HOUSE'S 9,000 UNUSED OIL PERMITS TALKING POINT IS WRONG
The IRA, which was signed by President Biden and authored by Sen. Joe Manchin, D-W.Va., requires the federal government to reinstate Lease Sale 257, an offshore lease sale stretching across 80 million acres in the Gulf of Mexico, and to hold three other offshore lease sales that the Biden administration had previously canceled over climate concerns. 
The bill also tethers new renewable energy leases to additional fossil fuel leases. Under the bill, the DOI is prohibited from issuing wind or solar permits unless it has issued an onshore oil and gas permit during the previous 120-day period and at least two million acres of land was leased for oil and gas development during the previous year.
Beard, meanwhile, was the sole witness called by the Democratic minority to testify during the Natural Resources Committee hearing on Tuesday. The hearing was called to review pending legislation on boosting energy production and reforming energy infrastructure permitting.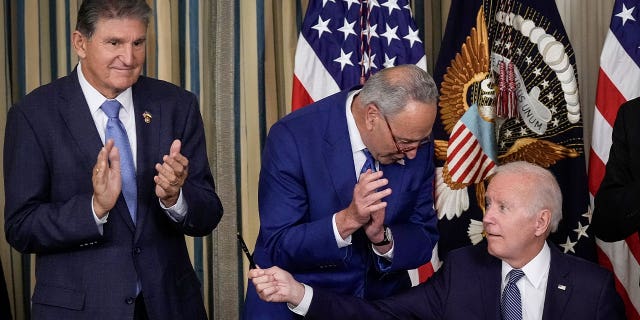 During the hearing, Beard said his home community of Port Arthur, Texas, had been exploited by the fossil fuel industry and victimized by "environmental racism."
"I live in Port Arthur, Jefferson County, Texas, an environmental justice community afflicted by institutionalized environmental racism," he stated. "West Port Arthur is a predominantly Black community along the Gulf Coast of Texas, that has been an economic and energy 'sacrifice zone' for the fossil fuel industry."
FOSSIL FUEL PROFITS ARE VITAL FOR GREEN ENERGY PROJECTS DEMS ROUTINELY TOUT
In January, though, Democratic leaders including Natural Resources Ranking Member Raul Grijalva, D-Ariz., defended their affirmative votes for the IRA, explaining that the new oil and gas drilling was a fair price for the bill's investments in green energy.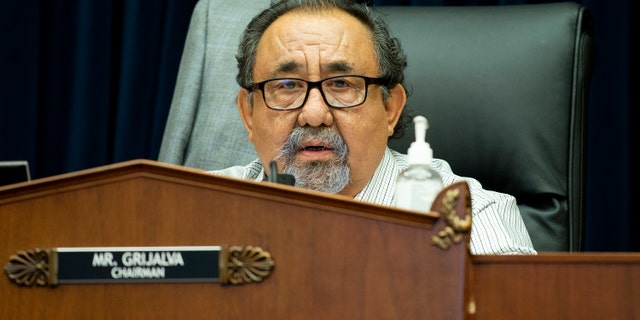 "In terms of the Inflation Reduction [Act], in terms of the piece of legislation where we voted for mandated sales, it's the process of balance," Grijalva said in response to a question from Fox News Digital on Jan. 24. "[The IRA] provided the most resources historically to deal with the real issue of the climate crisis and climate action associated with those resources. That was the balance, that was the investment."
CLICK HERE TO GET THE FOX NEWS APP
"What we're trying to do as Democrats, with the Inflation Reduction Act as our primary vehicle, is to encourage renewables — wind, offshore wind, solar and other renewable resources through tax credits and other means that we put in the Inflation Reduction Act. That's one of the reasons that we support it," Rep. Frank Pallone, D-N.J., added.
Pallone, the top Democratic member of the House Energy and Commerce Committee, added that they are trying to be responsible and "move away from fossil fuels at the same time that you're still pumping more fossil fuels."
If you have any problem regarding content please feel free to contact here at: itipspedia@gmail.com