NY Gov. Hochul's controversial housing, tax proposals have some Democrats on edge: 'Extinction-level events'
Controversial proposals by New York Gov. Kathy Hochul to increase the MTA payroll levy and override local zoning laws is worrying some Long Island Democrats that they could cost them their seats, with one lawmaker likening them to "extinction-level events." 
The Democratic governor's MTA package relies, in part, on increasing a payroll tax on city-area employers to raise $800 million annually. The move is intended to help offset lower ridership and revenues since the COVID-19 pandemic. 
The other proposal drawing some scrutiny would allow a state panel to override local zoning decisions if local municipalities fail to meet the state's housing goals. 
Democratic state Sens. Kevin Thomas of Levittown and Monica Martinez of Brentwood said housing initiatives should be decided locally.
CONSERVATIVE REJOICE AFTER FLORIDA DEMS ELECT FAILED GUBERNATORIAL CANDIDATE AS PARTY CHAIR: 'GREAT NEWS'
Another Democratic lawmaker, Assemblymember Michaelle Solages of Elmont said: "We need to make sure we're not implementing policies that take control totally out of municipalities' wheelhouse."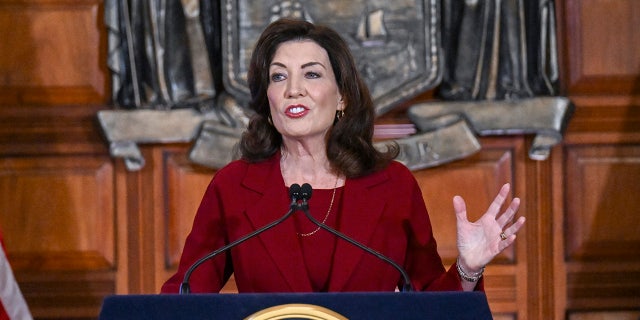 Speaking on the possible impact on Democrats in Long Island, Democratic Assemblymember Fred Thiele of Sag Habor called both proposals: "extinction-level events" in comments to Newsday. 
Fox News Digital has reached out to Hochul's office for comment.
Gov. Hochul unveiled her $227 billion state budget proposal earlier this month as she warned of tougher economic times ahead.
The wide-ranging spending plan also includes a public university tuition hike, a 10% jump in school aid and a proposal to revise yet again state bail law, which is expected to meet resistance from liberal state lawmakers. 
CALIFORNIA, WASHINGTON BILLS WOULD ALLOW TRANSGENDER PEOPLE TO SEAL RECORDS REQUESTING NAME CHANGE
Hochul said caring for new migrants and the solvency of the Metropolitan Transportation Authority, which runs subways and other public transit in the downstate region, are among the most pressing issues facing the state. 
"The New York City economy drives the state of New York, MTA helps drive the New York City economy. So, it's critically important to all of us," Hochul said during her budget presentation.
The spending plan includes a number of policies announced last month during the Democratic governor's State of the State address, including $1 billion to provide psychiatric beds and services for people with mental illnesses and a plan to spur the creation of 800,000 new homes, in part through changes in zoning rules.
CLICK HERE TO GET THE FOX NEWS APP
Democrats, who make up the majority of the Assembly and Senate, have until mid-March to introduce budget counterproposals. 
The Associated Press contributed to this report. 
If you have any problem regarding content please feel free to contact here at: itipspedia@gmail.com