Benched QB Marcus Mariota released by Falcons in salary cap savings move
The Atlanta Falcons have released veteran quarterback Marcus Mariota, the team announced on Tuesday.
The roster move opens up additional cap room for a team that was already projected to the have the second most salary cap space in the NFL. Mariota signed a two-year deal with Atlanta during the offseason and was named the starting quarterback at the beginning of the season. 
He went on to start 13 games before he was benched in favor of third-round draft pick Desmond Ridder. The rookie went on to start for the final four games of the season.
CLICK HERE FOR MORE SPORTS COVERAGE ON FOXNEWS.COM
Shortly after he learned that he would no longer be starting, Mariota stepped away from the team. It was later announced that Mariota underwent a procedure on his knee and as a result he was placed on injured reserve.
At the time, Falcons head coach Arthur Smith said Mariota's absence wasn't ideal, but noted that the team was prepared to be without him.
COMMANDERS RELEASE CARSON WENTZ AFTER ONE SEASON IN WASHINGTON
"Of course, you want all your guys to be here, but guys have to make decisions. It's part of professional sports. You have to have contingency plans," Smith said in December.
Cutting the former Heisman Trophy winner will result in an estimated $2.5 million in dead-money being added to the Falcons cap for 2023, but it also saves the team approximately $12 million.
If Mariota remained on the Falcons roster on the fifth day of the NFL's new league year, he would have been owed a $3 million roster bonus.
"When we did his contract originally, it was structured in that way to where we would make a decision after the season and the way that the [salary cap] number was going to go up," Falcons general manager Terry Fontenot said Tuesday at the combine.
The Falcons signed Mariota shortly after 2016 league MVP Matt Ryan was traded to the Colts. Prior to coming to Atlanta, Mariota spent two seasons with the Raiders, serving as quarterback Derek Carr's backup.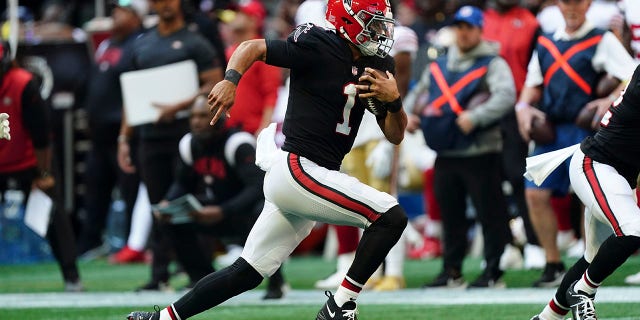 Mariota threw for 2,219 yards, 15 touchdowns and 9 interceptions this past season. He had a career high 85 carries for 438 yards, scoring four touchdowns – the second-most rushing touchdowns in his career.
He had a prolific collegiate career and was drafted No. 2 overall by the Titans, but eventually lost his starting job to Ryan Tannehill.
BEARS 'LEANING TOWARD' MOVING NO. 1 OVERALL PICK IN 2023 NFL DRAFT: REPORT
"When I was going into free agency [last year], I kind of understood that if I got a chance to play again, it was really going to be probably my last shot," Mariota acknowledged. "Most guys don't even really get a second shot."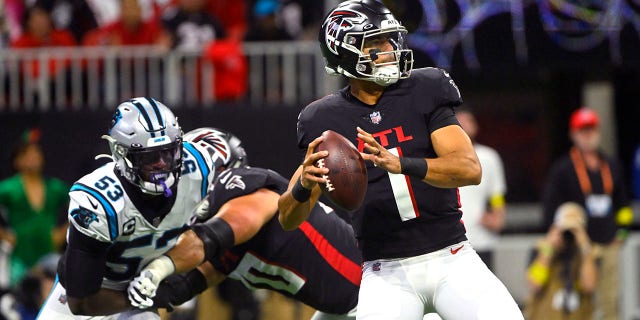 Mariota's best performance of the season came in the Week 6 win over the San Francisco 49ers, when he completed 13 of 14 passes and accounted for three touchdowns. He then received NFC Offensive Player of the Week honors.
But, Mariota largely struggled to throw the football accurately throughout the season and made costly mistakes. He also threw for less than 200 yards in five straight games.
Mariota has a 34-40 career record as a starter.
CLICK HERE TO GET THE FOX NEWS APP
In addition to Ridder, the Falcons currently have Logan Woodside as the starter heading into the 2023 season. But the Falcons front office says they plan on adding to the quarterback room during the offseason.
"We're going to add to the position, and we've been really clear with how we feel about Desmond Ridder and what he's done to this point in his career," Fontenot noted.
If you have any problem regarding content please feel free to contact here at: itipspedia@gmail.com